Join Maddy and Hunter for a very special holiday wedding!
Marriage Under Fire
, featuring an exclusive wedding scene never before released, is part of Criminal Christmas, a collection of 8 holiday suspense stories. The box set is now available for pre-order for just $0.99 and be the first to read these thrilling romantic suspense stories on November 9.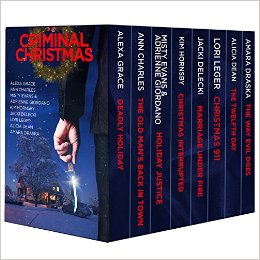 Share in the anticipation as Grayce, Davis, Hollie, James and the entire Grayce Walters crew plan a ceremony overflowing with all the love, romance and fellowship of the season.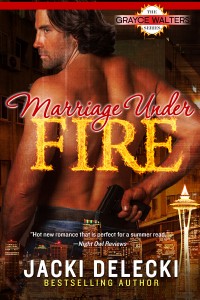 Christmas isn't all Peace on Earth this Holiday Season in 8 Outstanding Suspense Stories of Murderers, Stalkers, Terrorists, Thieves, and Kidnappers. Criminal Christmas puts the Danger in the season of Mistletoe, Christmas Trees & Goodwill. Snuggle up by the fire with our books and enjoy Christmas like never before. This fabulous set is comprised of 6 Novellas (including never before published!), 1 Short Story and 1 Full Novel!
Deadly Holiday - Novella
It's four days before Christmas and the characters you grew to love in The Deadly Series are struggling with life-threatening problems. When a five-year old boy testifies against his father, then disappears without a trace, the town struggles to find him. But an impending blizzard threatens to halts the search just before Christmas. Deadly Holiday is an action-packed thriller you don't want to miss.
The Old Man's Back in Town - Short Story
A sizzling, suspenseful SHORT STORY wrapped in a puzzling mystery that will leave you hungry for more. **It's "Groundhog Day" meets the modern day Old West!**
Holiday Justice - Novella
A Justice Team Holiday Novella! When his Justice Team partners, Mitch Monroe and Caroline Foster, discover a Santa sneaking around behind the restaurant, Grey and Mitch uncover a theft ring that's leaving kids without toys and families without a reason to celebrate.
Christmas Interrupted - Novella
Christmas in snowy Carnation, Washington seems like the idyllic get away until Jamey Dunn has a prophetic dream of his father's house burning to the ground on Christmas Eve. Jamey and his wife Tina race to Carnation to prevent the tragedy that will take Pops' life and discovers something is strange about the new neighbors.
Marriage Under Fire - Novella
Marine veteran Maddy Jeffers never expected her most demanding and daunting mission would come off the battlefield. Ordered to infiltrate a Seattle terrorist cell, Maddy must pose as a loving wife to Major Hunter Hines. The undercover role begins to feel all too real when Maddy falls hard for the rugged, macho Marine.
The Twelfth Day - Novella
Years ago, Sabrina Spencer was the lone survivor of a serial killer's attack on her family, her testimony putting the killer behind bars. When she begins receiving daily packages containing bizarre gifts related to the Twelve Days of Christmas, Sabrina suspects her new love is behind the twisted countdown to the twelfth day.
Christmas 911 - Novella
When mother-to-be Corrine Landry stops off to purchase a gift for her niece on Christmas Eve, she finds herself in the middle of a crisis situation. Luke Oliver is about to end his final twelve-hour shift as a 911 dispatcher. After answering a desperate plea from a frantic pregnant woman, he suspects this particular call could change his life--maybe forever.
The Way Evil Does - Novel
When novelist Rebecca Reis interviews convicted serial killer, Thomas Eisenbrey in the Washington State Penitentiary she finds herself having strange feelings for the psychopath. Nicknamed the Hunter, Eisenbrey is crafty, aloof, and has somehow wheedled his way into her mind. When he escapes, Rebecca is terrified--who will he hunt next?